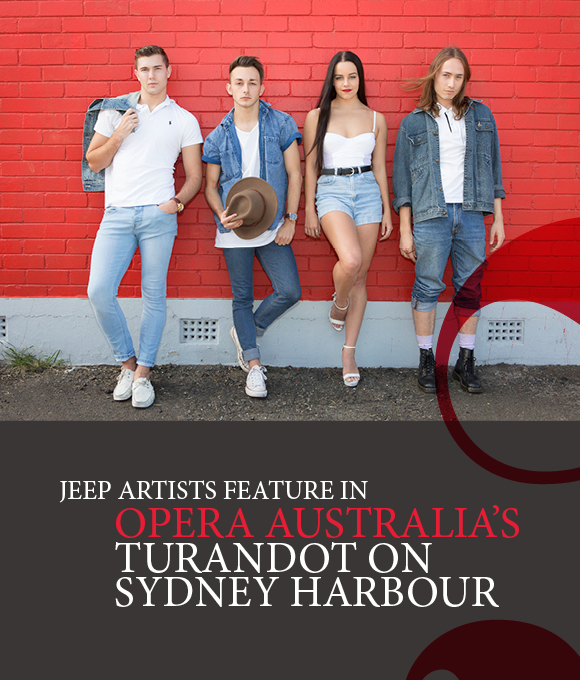 The high notes of Nessum Dorma have been ringing out across Sydney Harbour on a pop-up Opera House stage at Mrs Macquarie's Point this past month, and four Jeep Artists have had the incredible experience of being part of the show…
Turandot is against the iconic backdrop of Sydney Harbour, with a stunning set including a 60 m long mythical Chinese dragon, which snakes its way around the stage and an 18-metre high Chinese pagoda.
It tells the story of Turandot, a beautiful and powerful princess, who challenges her many suitors to answer three riddles on pain of death. No one has ever succeeded. Until Calaf, a brave prince from a foreign land falls instantly in love with the princess and offers a riddle of his own.
This incredible production features eight principal singers, 40 chorus members and 18 dancers in addition to a huge crew of production specialists and technicians back stage. Jeep's own Erica Stubbs, Joe Donavan, Liam Peel and Tom Anastopoulos, are thrilled to be part of this cast.
"The dancers add an element of energy to the production," explains Tom. "We are vital in keeping the stage full and interesting, so we take on roles like executioners, servants, guards and ghosts to name a few. The choreographer created a martial arts-jazz fusion routine when we play the executioners. We dance with swords and were taught the correct way to use it using martial arts methods."
Erica has also had the extra challenge of learning the Chinese art form of long-sleeve dancing with metre-long sleeves, which is "difficult but beautiful" she says.
This foursome was successful in a large audition process back in February where acrobatics were a key element, and each Artist had to be approved by a team in China before they were cast. All four spent time they researching the opera before attending – and they have since grown as Artists and gained so much experience working with Chinese director Chen Shi-Zheng.
"Transitioning into this contract really was like stepping into a whole new world," says Joe. "From the choreography to the vocabulary, understanding all these foreign terms was sometimes a challenge."
"But working with Shi- Zheng was an incredible experience and taught me a lot," he adds. "Having an international director meant that while he was updating the production, the traditional cultural elements still remained. Therefore, we got to learn about the culture in a modern way."
The end result? According to Erica, "This opera is a visual spectacle like none other. The stage, sets, special effects and costumes all enhance Puccini's story of Turandot, and keep you entertained the whole night."
"A must-see production" adds Liam.
Playing in Sydney til 25th April 2016
Click here to find out more and book tickets.